Here is a snapshot of 2021 so far for the Coffey family. Thank you all so much for being a part of our ministry. We are very fortunate to be involved in this exciting work.
We started off 2021 with two camps at Camp Rhino. We were torn about having camp during lockdown but finally decided to follow through with them. Thankfully we haven't had a single outbreak with Covid this year with any of our meetings.
We started with Junior Camp.
Then we followed with Teen Camp.
Remember, January is Summer for us here in South Africa:)
We saw over 50 young people make professions of faith during those two camps. Katie Dilfer who is raising support to come back to South Africa was able to visit for 3 weeks during that time. My son Chase also brought a group from the states to help with those camps.
He also used that time to propose to his girlfriend Ashley. We love her very much, btw:)
Two interns from Vision Baptist Missions came to work and train with us for 3 months, Noah and Tristan Wilkerson.
Noah and Tristan surrendered to be missionaries to the bordering country of Mozambique during their time here. We were able to take a short survey trip there to check out the country before they made their final decision. Pray for them as they are now on deputation with the new son Logan, raising support to come back to Africa very soon.
Even though our churches were on lockdown and weren't allowed to meet in their buildings, we invited the churches that wanted to participate to Camp Rhino for three weeks straight of Sunday services. It was a special time for all the churches to meet together.
In February, the restrictions were lifted and churches were able to meet again.  There is still a little struggle with attendance, but the leadership and spirit are strong and the churches are beginning to grow.  We continue to see people saved with five people making professions of faith this past month.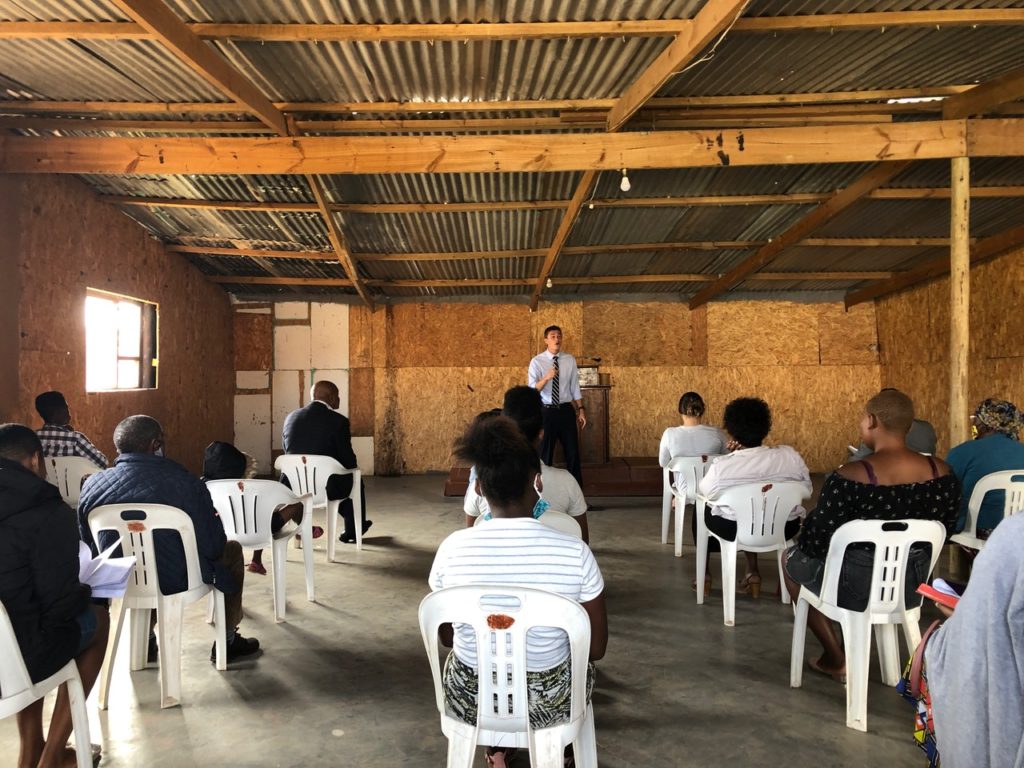 In March, I went back to the states for 3 weeks to teach at our annual orientation at the Wilds for Vision Baptist Missions. Below are those in attendance from our Africa team. I have the great privilege of serving them as the Africa Director for VBM.
This is all our missionaries in attendance for orientation, those on furlough and those on deputation.
In April, we had our very first teen camp and single camp during school's fall break. This is the first time we've had a camp outside the regular summer season. We're hoping this will begin our year-round camping which we hope to be the new normal. We had 10 young people make professions of faith.
Robert Canfield, Africa Representative and Director of the Our Generation Training Center in Alpharetta, Ga brought students from the Training Center to help during those camps.
We've tried to make great use of some of our downtime at Camp Rhino to improve our facilities. We've installed video surveillance along with an intercom system for the entire camp.
We are also working on improving Camp Rhino grounds and sport fields….
…. and adding hens soon to take down some of the expenses for the camp.
Classes have continued for Bay Baptist Bible College and Bay Baptist Bible Institutes throughout the lockdown. Please be praying as we will be breaking ground on our new buildings for Bay Baptist Bible College in the next few days. (New Pictures Coming Soon)
We're definitely excited about what else is in store for us here in South Africa. Thank you all for your prayers and support. We wouldn't be able to do what we get to do without you.